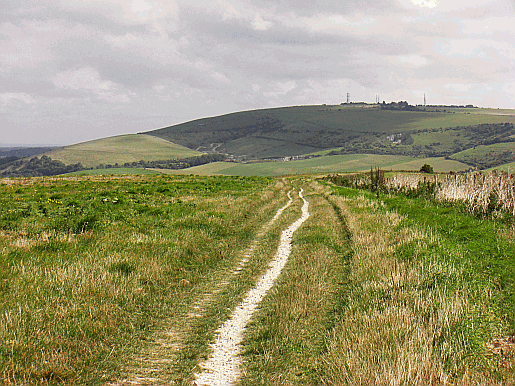 The South Downs Way
Annington Hill and Botolphs
The final couple of kilometres of this section of the South Downs Way take you from a height of 189 metres above
Steyning Bowl
down more or less to sea level at Botolphs.
The descent is gradual at first, heading westwards along a long grassy field on the top of Annington Hill. A little further on lies one of the best viewpoints on the South Downs Way - all the better for not having a car park to bring crowds to spoil the moment.
You get a great view of Steyning, Bramber, Upper Beeding and the Adur Valley. Look out for the finger of the ruins of Bramber Castle poking through the trees on a knuckle of high ground near the river.
You'll see the huge white scar of Beeding Cement Works on the opposite side of the valley - loathed by most people, but quite liked by some
Then the route plunges downhill fast towards Annington Farm and a cluster of attractive houses which form the hamlet of Annington.
There's a pleasant walk along the quiet back road from Shoreham-by-Sea to Steyning down the valley to the Saxon village of Botolphs, which, rather confusingly, was called Annington in Norman times.
Botolphs itself is a small affair, with a church which seems much too large for it today. The church of St Botolph itself used to be much larger than it is now, indicating that it once supported a large Christian population. This is indeed the case, But unlike many lost villages which were abandoned because of plague and other misfortunes, Botolphs main business - as a port - became largely redundant as the River Adur silted up and shifted course a little.
Longshore drift at the mouth of the Adur (or Soreham River sic. as it was called in the middle ages) was the culprit. Countless tons of shingle blocked the river mouth, pushing it westwards towards modern day Portslade until the embankments of the modern day port at Shoreham-on-Sea restored a degree of equilibrium.
It's now time to cross the Adur and begin the next stage of our route along the South Downs Way.
SOUTH DOWNS WAY - WHERE TO STAY
SOUTH DOWNS WAY - STEP BY STEP
SOUTH DOWNS WAY INFORMATION
WEST SUSSEX TOWNS
STAY INFORMED
SUSSEX INFO