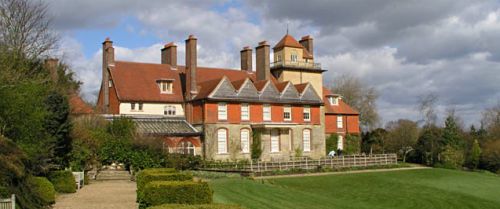 Standen House and Gardens
Standen, near East Grinstead, is one of several
Arts and Crafts
gems in Sussex.
Standen House
The house was designed by architect
Philip Speakman Webb
who, as well as having a really cool middle name, is sometimes called the
Father of Arts and Crafts Architecture
. Webb was a partner in the architecture firm of Morris & Co along with other Arts and Crafts giants William Morris, Sir Edward Burne-Jones and artist DG Rossetti.
...a real mixture of styles, building techniques and decorative effects
If it wasn't for the overall charm of Standen you might conclude that, at best, the house displayed muddled thinking. It's a real mixture of styles, building techniques and decorative effects.
These include wallpapers and textiles designed by William Morris himself – these are the originals of styles that regularly come back into fashion now and again today.
The fabulous furniture, textiles and fittings of Standen are an integral part of the whole, which was designed as a country house for London solicitor James Beale in the 1890s.
Standen Gardens
Standen also has 12 acres of very attractive gardens set on a hillside overlooking the Ashdown Forest. The
views
over the Forest are spectacular.
Highlights of Standen Gardens include the Quarry Garden, the South Garden Terrace and the Top Terrace, which was built in 1910.
Many of the plants were chosen by Margaret Beale and she kept a garden diary which means that the history of Standen Garden is extremely well documented.
Standen Wood
Standen is now in the care of the
National Trust
and is open to the public for most of the year – but not all of it. The National Trust acquired neighbouring
Standen Wood
to help reconstruct Mr Beale's original estate and Standen Wood is now managed as a wildlife sanctuary.
GARDENING
WEST SUSSEX TOWNS
STAY INFORMED
SUSSEX INFO