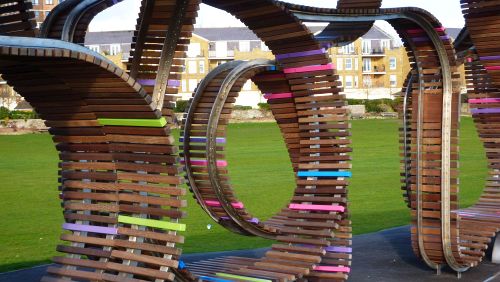 The beach at Littlehampton, West Sussex
Littlehampton Beach
is one of the best beaches in Sussex, so it's no wonder that Littlehampton is a popular place for holidaymakers wanting to enjoy the West Sussex seaside.
And the beach at Littlehampton is even better than ever, with some innovative and imaginitive developments making it (almost) trendy.
Littlehampton East Beach
is the place where all the trend-setting action is.
The amazing East Beach Cafe is really just a nice restaurant and cafe on the beach. True, the food is pretty yummy. But what makes the East Beach Cafe really interesting is the exciting gridshell-style design of the building it is housed in - all curves and modernity, but fitting beautifully with a beach landscape. It's pretty funky inside too, with hardly a right angle anywhere to be seen.
Equally funky is the Longest Bench, a really original idea which has seen a multi-coloured 324 metre long bench wind its sinuous way along the seafront at Littlehampton.
Of course, all these man made embellishments are as nothing to the glory of Littlehampton beach itself - after all that's what most visitors like most about the seaside at Littlehampton.
Littlehampton beach is a mixture of sand and shingle and the tide goes out a long way most of the year, leaving a vast expanse of beach to sunbathe and play on.
If you have kids, then they might also enjoy the amusements and rides at Harbour Park, which is near the beach in Littlehampton. Harbour Park has a caterpillar roller coaster and lots of other rides and things to do.
Kids will also enjoy the miniature railway which runds between Mewsbrook Park and Norfolk Gardens.
On the opposite side of the mouth of the River Arun lies the lovely Littlehampton West Beach, which you can reach by ferry or by bridge. West Beach is a local nature reserve and is a great place for a walk on a windy day towards Climping Beach - one of the most popular stretches of beach among Sussex locals.
RELATED PAGES
WEST SUSSEX TOWNS
SUSSEX INFO