Rudgwick
Rudgwick is a small, but growing, village located at the very top of West Sussex close to the border with Surrey.
The parish of Rudgwick takes in six adjoining settlements: these are Bucks Green, Cox Green, Rowhook, The Haven, Tismans Common and Rudgwick itself.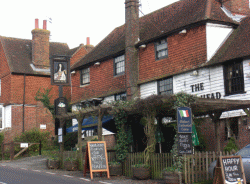 Although there is a large amount of new housing in the village now, Rudgwick also has many lovely and interesting old houses, many of which are timber framed buildings. There is plenty worth preserving in Rudgwick, so much so that the village has an active preservation society.
Rudgwick Preservation
As well as ensuring that the fine buildings in the village are well looked after, the
Rudgwick Preservation Society
has also helped ensure that the history of the area has been well researched and is kept alive.
The
Rudgwick Music Festival
is a good day out if you are in the area in August. The event features local bands, a beer tent and proceeds go to charity.
Rudgwick History in 30 seconds
Although the area around Rudgwick is obviously very rural, that does not mean that it is has not been the host to important industrial activity in the past.
The natural resources around Rudgwick have meant that, at different times, the iron industry and brick making industry have both flourished here and there is still a brickworks in the village.
The village used to have its own railway station on the line from Horsham to Cranleigh, but since that closed in 1965, the railway line has been turned into a fine space for walkers, riders and mountain bikers to enjoy.
Rudgwick also has its place in the history of paleontology - and therefore Rudgwick has a small place the history of life itself. The species Polacanthus rudgwickensis is named after a specimen discovered in the Rudgwick Brickworks - the fossil fragments are now in the care of the Horsham District Museum.
If you are curious, the Rudgwick dinosaur was a heavily armoured herbivore about 4 metres long which lived around 125 million years ago.
Rudgwick Churches
Rudgwick has two churches: the Church of
Holy Trinity
is an Anglican church while
Rudgwick Chapel
is an evangelical church.
The church of Holy Trinity has an unusual marble font which contains fossilised shells.
RUDGWICK INFORMATION
The Rudgwick Music Festival takes place just over the Surrey border at the Springbrook Estate in Alfold and, among other things, raises money for charity.
The Rudgwick Steam & Country Show is an irresistable mix of traction engines, music, animals, arts, crafts and real ale - all taking place over August Bank Holiday weekend.
The village cricket club website.
The club enjoy dressage and jumping.
Rudgwick Sport and Community Centre has facilities for tennis, cricket, football and social events.
The 1st XI of Rudgwick F.C. play in West Sussex Football League Division 2 North
Rudgwick Junior Football Club providing inclusive low cost football in a competitive environment for local children.
WEST SUSSEX TOWNS
STAY INFORMED