Bell ringing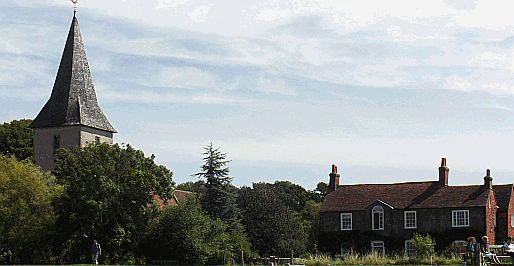 Bosham Bellringing
One of the best bell ringing sites about, the Bosham Tower bell ringing site tells you a great deal about the technical and emotional side of bell ringing in one of the most historically resonant churches in West Sussex.
The website also explains the legend of the Bosham Bell, which is said by some to toll out at sea after being plundered by Viking raiders.
The Rusper Ringers
The Rusper Rings home is the church of St. Mary Magdalene, Rusper and their website has full details of ringing times as well as news about the work they are doing to restore and rehang the church bells.
St Leonard's Church, Turners Hill
Although the church website has disappeared (temporarily we hope), St Leonard's has a well loved peal of 8 bells rung from 70 foot long ropes.
Bellringing at Worth Church
The bells are rung in practice on Thursdays and for real on Sunday mornings. Visiting bell ringers are extended a warm welcome.
Wisborough Green Church
Wisborough Green Church has 6 bells and bell ringing practice is on Tuesdays.
Sussex County Association of Change Ringers
Founded in its original form in 1885, SCACR is a great resource for anyone interested in the past and present of bell ringing in West Sussex.
The association also has a library which can help you find which peals were rung where and when. Well worth a look.
Ringing.info
Perhaps the most comprehensive bell ringing resource on the internet about UK bellringing.
If you can't find it here, then it possibly doesn't exist. The site covers everything about campanology from history to hand bells, from peals to private rings and from compositions to campaniles.
RELATED PAGES
WEST SUSSEX TOWNS
SUSSEX INFO