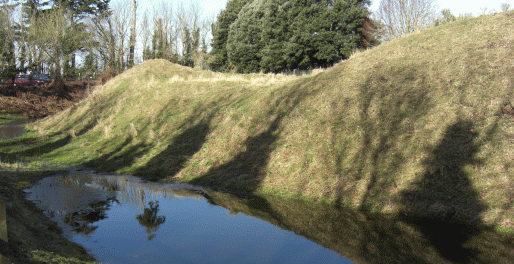 Church Norton in West Sussex
Church Norton, which is part of the parish of
Selsey
, is a good base for walks around
Pagham Harbour
.
The village itself contains few houses. But its small church has a very rich history and used to be far more important than it is today.
Its site is close to the original 7th century seat of St Wilfrid, the Bishop of the South Saxons and the man credited with bringing Christianity to pagan Sussex. For around three centuries, therefore, Church Norton was the hub of Christian decision making in Sussex.
The Normans however shifted the churchís HQ in Sussex to Chichester where they built the magnificent cathedral we can all see today.
To add insult to injury, the nave of the Church Norton's church was removed and re-erected at Selsey, leaving behind a tiny little building where once there had been a mighty structure.
You can still see the impact of the Normans at Church Norton today. The earthworks shown above are all that's left of a fort or castle the Normans used to protect Pagham Harbour.
Looking at Church Norton today itís hard to accept that this was once a powerful place where big decisions were made and lives changed. But is was.
Nowadays itís just a very peaceful place, populated mainly by birds and walkers.

PLACES NEARBY
WEST SUSSEX TOWNS