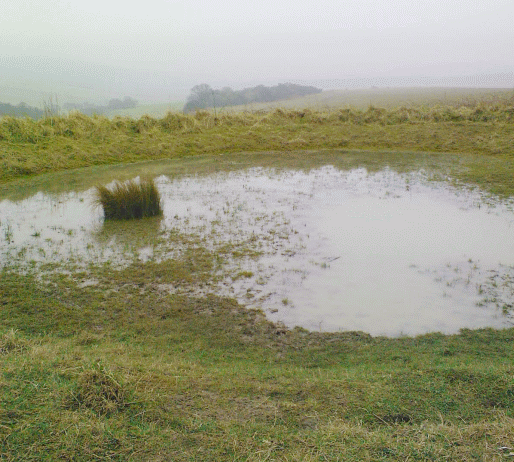 Dewponds
From time to time when you are up on the South Downs you'll spot a saucer like bowl sunk into the turf, usually filled with water in the winter.
These are dew ponds.
The term 'dew pond' is something of a misnomer as dewponds are in fact mostly filled with rain - with a little help from the dew and the early morning mist that is common on the South Downs - like the mist you can see in the picture.
Shepherds would line their dewponds with clay to prevent water from seeping away into the porous chalk of the Downs. The dew pond could then be used as a reliable source of water for their sheep. Many downland dewponds are now lined with concrete. Others, like the one shown in the picture above, are covered with grass.
The dewpond shown in the picture above is a few metres south of the South Downs Way as it crosses the top of Chantry Hill. This is one of the places where the South Downs Way is most accessible by motorists, as there is a car park near the top of Chantry Hill from where you can get great views of the Angmering Park estate and Harrow Hill in particular.
Harrow Hill has traces of an iron age fort on top of it and extensive flint workings.
You can reach the Chantry Hill Car Park by taking the road due south from Storrington up the side of Chantry Hill and Sullington Hill.
RELATED PAGES
WEST SUSSEX TOWNS
STAY INFORMED