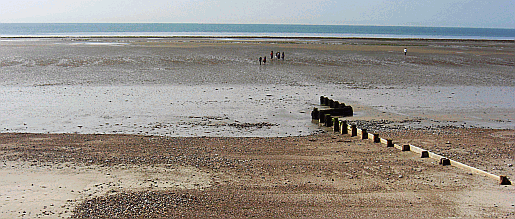 Beaches in West Sussex
West Sussex has some of the
best beaches on the south coast of England
and Good Old Sussex By the Sea is a pretty good place to come for a day trip to the beach.
In the west of the county, there's a huge expanse of sandy beach that stretches for miles from East Head to Selsey.
Further east the beaches of Sussex run (almost interrupted) from Bognor Beach to Brighton with only the mouth of the Arun and the harbour at Shoreham interventing.
Here are some suggested good beaches in West Sussex which are worth getting your bucket and spade out for.
Littlehampton Beach
Littlehampton Beach is one of the more popular places to spend time by the seaside, especially now it's had new life breathed into with some stylish new beachfront facilities. East Beach is a classic family beach while West Beach is more of a wilderness type beach for nature lovers.
West Wittering Beach
Famous beach including the ever changing spit of East Head.
You'll need to pay for parking to visit the beach, but it's a fantastic expanse of sand at low tide on the Solent side, with an enjoyable looped walk around the spit into Chichester Harbour and back alongside the salt marshes, thus giving you three seascapes for the price of one.
Bracklesham Beach
Bracklesham Bay has a lovely sandy beach making it the perfect place for a seaside holiday.
Selsey Beach
Selsey Bill marks the southern point of Sussex and the end of the eight mile long beach which sweeps along Bracklesham Bay. The beach at Selsey is packed in summer, but a pretty good place for a walk on the beach in winter too.
Climping Beach
Climping Beach is a lovely shingle beach between Bognor and Littlehampton. Climping Beach is very popular with us Sussexites because it isn't quite as busy in high summer as some of the other holiday beaches in Sussex which, quite rightly, attract lots of day trippers looking to enjoy a day by the seaside.
Pagham Harbour
The Friends of Pagham Harbour contribute financially to the maintenance and enhancement of the nature reserve and use these funds to buy equipment and educational materials to advance knowledge of and understanding of this special place.
See also the tiny village of Church Norton next to Pagham Harbour.
You can also find out more about Pagham Harbour here.
Shoreham Beach
Shoreham Beach is the huge spit of shingle across the mouth of the River Adur.
It's now more than just a beach - it's almost a town in its own right with an interesting history.
Pete McClelland's site has a nice friendly feel to it and links to some interesting and unusual sites related to Shoreham Beach.
If you like the beach..
If you like the beach (and who doesn't?) you might enjoy looking at the Furry Feet guide to Britain's beaches. It's a compendium of coastal treasures..
Find accommodation near the beach
If you fancy a beach holiday in Sussex, then try these suggestions of good places to stay near the beach in West Sussex. The main seaside towns are well set up for holidaymakers, with a huge choice of places to stay, from cheap hotels through to some very smart hotels. There are also plenty of holiday cottages and apartments you can rent out for your seaside holiday.
PLACES ALONG THE SUSSEX COAST
THE SEA
WEST SUSSEX TOWNS