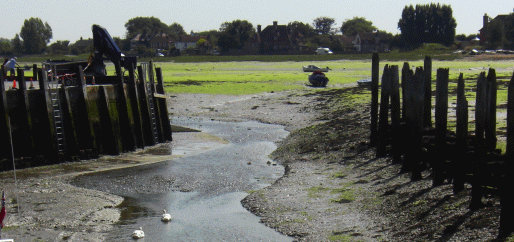 The erosion of the Sussex coast
Shrinking Sussex
Global warming and
rises in sea level
are in the news practically every day and in Sussex, particularly at
Selsey
, there are great worries that eventually the sea may wash away the town.
This is nothing new. Thousands of acres of Sussex have been gobbled up by the sea over the last 10,000 years.
That sinking feeling
It is now well known that the southern part of the British Isles has been
sinking
slightly since the last Ice Age.
This is because the huge weight of the ice cap that covered the northern part of Britain during the last Ice Age is no longer pressing down on the north of the British Isles.
Very, very slowly the northern part of the country is springing up while the south is tilted forward and down.
The Sussex coast is right in the firing line of this threat.
Some lost villages of Sussex
We know of many
dramatic changes
to the coastline and lost villages.
There are many others we donít know about because the evidence of ancient settlements has been literally washed away.
In the 17th century a large part of the village of Kingston, west of Ferring, was given up to the sea. The village vicar memorably noted the last service ever held at the church as the waves lapped at the church walls.
Cudlow used to be bigger than its neighbour the River Arun port of Littlehampton in the Middle Ages but it was abandoned at the end of the 16th century. Nearby the original Church of St Nicholas at Middleton fell into the sea in 1837.
The tiny village of Charlton (not to be confused with the thoroughly dry village of Charlton near Goodwood) between Pagham Harbour and Bognor also disappeared beneath the waves in 1341 after a huge storm inundated a large amount of farmland.
This huge storm was also responsible in the longer term for the silting up of Pagham Harbour and a huge reduction in its importance as a trade center.
Most famously of all St Wilfridís original cathedral at Selsey was also inundated and if any of it is still intact it now lies well offshore, with its bells supposedly still ringing about a mile south of Selsey Bill.
Today the government admits that over 3,000 homes in Bracklesham, East and West Wittering, Selsey and Pagham are at risk from flooding by the end of the century.
PLACES ALONG THE SUSSEX COAST
THE SEA
WEST SUSSEX TOWNS
STAY INFORMED