Chichester - full of good things to do
Chichester art and artists
Art exhibition
and competition rolled into one .
Popular art gallery
where many local artists exhibit.
Award winning and previously controversial
modern art gallery
. One of Chichester's big attractions .
Art trail
with venues in the villages near Chichester plus the city centre.
Portrait photography
, digital photography and other camera-related stuff.
One of the leading
sculpture parks
in the UK is at Goodwood, just north of Chichester.
Music in Chichester
Band
with over 100 years of history behind it.
Large and popular
Chichester Choir
.
Top class
independent cinema
in New Park Road.
Jazz club
at the Pallant Suite in Chichester.
Chichester Real Ale and Jazz festival takes place each July in Priory Park (above). RAJF is undoubtedly one of the highlights of the Chichester summer season .
Two day programme of
jazz concerts
including Jazz Cruises on Chichester Canal. .
An
orchestra
which combines professional and amateur musicians plays several times a year.
West Sussex
world music
impressarios.
Chichester theatre
Chichester's
famous octagonal theatre
and Minerva Theatre.
Chichester Harbour
See our separate section containing
information about Chichester Harbour
.
Chichester charities and good causes
Providing
money advice
and much more besides.
Enthusiastically supported
Chichester hospice
.
The Lions in Chichester
collect old glasses.
Organise
Chichester MayFest
.
Keeping up the spirits of the
ill
.
Help for
charity workers
.
Combining
sailing and Christianity
.
Rescuing not only cats and rabbits but also
unwanted guinea-pigs
.
Have resuced virtually
every type of animal
under the sun.
Churches in Chichester
The number one symbol of the city, Chichester's Norman Cathedral.
Interesting and calming Grade 1 listed
Methodist Chapel
in St John's Street.
The Religious
Society of Friends
.
See many more
West Sussex churches
including Immanuel.
Sports clubs in Chichester
See our separate
Chichester sports
section.
Things to do in Chichester
At the heart of the
Goodwood Estate
. Great artwork and lavish public rooms.
The
Falconry Centre
south of Chichester. .
For kids who love
Dinosaurs
.
A weird mixture of
dolls, toys and more
.
Learn to fly
.
See the stars
in all their glory - from indoors.
Chess
every Tuesday.
Chichester universities
Formerly the
Technical College
and a big employer in Chichester.
Formerly Bishop Otter
Teacher Training College
.
Chichester councils
In
North Street
in Chichester.
CDC have their main
council offices
in East Pallant, Chichester.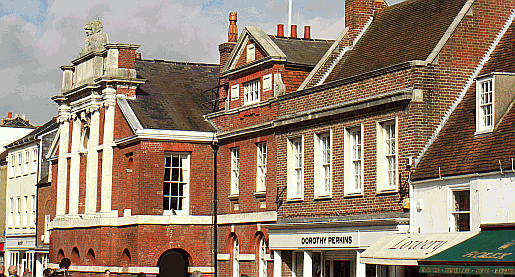 North Street is one of the four main street of Chichester - the layout of the city centre has stayed essentially the same since Roman times.
As well as being one of the three or four busiest shopping centres in West Sussex, Chichester city centre is notable for the very large number of old buildings crammed alongside modern commercial activity.
While a large number of the shops in Chichester are branches of high street multiples, look a little higher above the high street fascias and you have an (almost) uninterrupted display of beautiful and interesting old buildings - all subtly different.
North Street is very wide and has been pedestrianised for many years and so wandering along looking upwards at the architecture on offer is both rewarding and generally safe.
North Street and East Street also hold a well-supported Farmers Markets every other Friday morning.
St Peter's Church, West Street, Chichester - the former St Peter's Church is now a bar
RELATED PAGES
WEST SUSSEX TOWNS
SUSSEX INFO