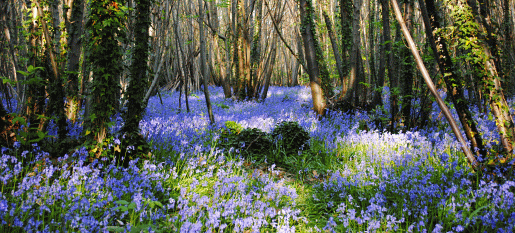 The nature reserve at Brandy Hole Copse
A springtime bluebell walk near Chichester
A walk through a wood full of bluebells is one of the delights of the Sussex spring. One of the easiest places to get to enjoy spring bluebells is the
small nature reserve at Brandy Hole Copse in Summersdale
.
Since it was first developed at the turn of the twentieth century, Summersdale has been one of the more desirable places to live in Chichester and Brandy Hole Lane is one of the leafier parts of Summersdale.
Dark tales of smugglers at Brandy Hole Lane
For years Brandy Hole Lane was synonymous was smugglers tales.
This part of West Sussex has a grisly history of smuggling. A mile of so from the upper reaches of Chichester Harbour, it was a handy place for smuggling gangs to hide their stash before moving their goods inland.
So there are plenty of local stories about secret tunnels, smugglers' caves and all manner of illicit activity at Brandy Hole Copse. Early Ordnance Survey maps actually marked the smugglers' caves.
The Smugglers Stone marking the execution of members of the violent Hawkhurst Gang is a few hundred metres away from Brandy Hole Lane on the Broyle Raod.
The nature reserve
Now there's a better reason to visit Brandy Hole Copse - the newish nature reserve.
The reserve was the work of the Brandy Hole Copse Conservation Group which secured Local Nature Reserve status for the fifteen acre patch of woodland in 2002. Like many of the people behind the best nature reserves in Sussex, they are volunteers and local heroes one and all.
The most obvious part of the nature reserve is the small section along Brandy Hole Lane itself. But there's a much bigger area of woods to the west which contains some lovely woodland and a carpet of bluebells at the end of April and start of May each year.
Brandy Hole Nature Reserve also contains other curiosities such as earthworks which date from before Roman times and the remains of World War II defences.
A Walk along Centurion Way
One of the best ways of enjoying Brandy Hole Nature Reserve is to walk or cycle there along Centurion Way - the former railway line from Chichester to Midhurst.
Following this route, the nature reserve is around 3km from the centre of Chichester. You can walk back a quicker route along the Broyle Road and through Oaklands Park towards the Festival Theatre.
More about Brandy Hole Copse
If you would like to find out more about Brandy Hole Copse Nature Reserve, there are some good leaflets on the
Conservation Group website
.
Photograph of Bluebells at Brandy Hole Copse by Jill Wakeford
Horsham guide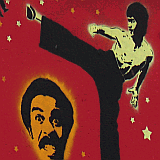 Sports guide
Arundel guide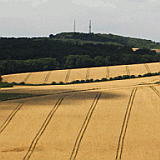 The South Downs Way
Chichester city guide
Festivals and events

WHERE TO STAY IN CHICHESTER
MORE ABOUT CHICHESTER
PLACES NEAR CHICHESTER
CHICHESTER HISTORY
SUSSEX INFO