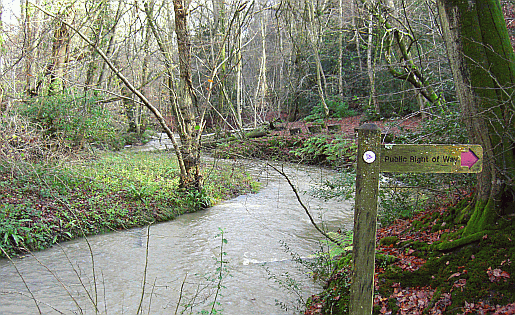 West Lavington
West Lavington
is a pretty village south of Midhurst. As housing demand in Midhurst continues to grow, it won't be terribly long before West Lavington gets swallowed up by Midhurst, but for the time being it has a fairly secluded spot in the countryside.
The part of West Lavington around Costers Brook as it takes waters from the South Downs near Cocking northwards to the Rother is particularly attractive.
Just south of West Lavington, along Dunford Hollow on the way to Heyshott, lies Dunford House.
This handsome building is now used as a conference centre, but it has a more interesting association with the the radical liberal Victorian MP Richard Cobden - he was born here and spent many of his earlier years in and around Midhurst, Heyshott (where his father owned a mill) and West Lavington.
Cobden and his ally John Bright were dead against protectionism - which they saw as an evil burden on the poor because it kept food prices artificially high.
Sussex in Cobden's time was desperately poor and many people were ferociously hungry - there were several deep agricultural recessions in the 19th century - and it's no surprise that many rural Sussex folk turned to smuggling to make ends meet.
Starting with the formation of the Anti Corn Law league, Cobden spent his life promoting free trade and peace, at a time when such ideas marked him out among the political classes as a bit of a dangerous leftie - there probably aren't too many dangerous lefties in West Lavington these days however, as the village is just as prosperous and conservative as its neighbours in this lovely stretch of the Rother Valley.
WEST SUSSEX TOWNS
STAY INFORMED

RELATED PAGES
HEYSHOTT BONFIRE
SUSSEX INFO