Chichester shopping
Chichester has some of the best shopping in Sussex
. People have been coming to Chichester since before Roman times for a spot of shopping and today it's no different.
Chichester city centre is full of attractive shops laid out in a compact area which means a day's retail therapy needn't be too hard on your feet.
Like most city centres, Chichester has a good choice of big retailers, but there are also plenty of unusual small shops in Chichester too.
Despite the recession, there are fewer empty shop in Chichester than in most city centres - a tribute to Chichester's popularity as a place to shop till you drop.
Where to park for a day's shopping in Chichester
Chichester City Centre is mainly pedestrianised, so it's best to arrive by public transport or leave your car on the outskirts of town.
But don't worry. All the main car parks are very short walk from Chichester's main shopping centre - the four main streets of North Street, East Street, South Street and, to a lesser extent, West Street.
The best long stay car parks are Market Avenue where there is a market each Wednesday and Saturday, Northgate Car Park (near the Festival Theatre and Oaklands Park) and at Southgate, where there's a multi storey car park near Waitrose and the Railway and Bus Stations.
If you want to bring your car into the middle of Chichester there are more expensive car parking options in South Pallant, Little London, Baffins Lane and St Cyriacs. At Christmas there can be a considerable wait for car parking spaces to be come available here.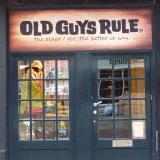 More shopping
There's masses of shopping in Chichester, from giants like
Marks and Spencer
to a huge branch of
Boots
right through to tiny independent shops.
Opposite Chichester Cathedral in West Street there's a large A & N department store (once the venerable Chichester shop Morants).
Followers of fashion might like East Street, where LK Bennett, Hobbs and Jigsaw and are all within a stilletto's throw of each other while there is a branch of Jaeger in Little London.
Less expensive clothes shops in Chichester include New Look, TopMan, Next, Warehouse, White Stuff, Fat Face, Oasis, Wallis, River Island and many more.
In 2011 the lovely flint-faced Ferndale Centre building in North Street was turned into a striking outlet for Jack Wills.
The shop in Pallant House Gallery is a good place to spend a while looking at art books and prints relevant to some of the recent exhibitions held at the gallery.
Chichester has several toy shops, including an Early Learning Centre in East Street. Look out for Confident Kids Toys though. It's tucked behind the Fountain pub at the bottom of South Street. This is also the place to go if your kids are interested in skateboarding or BMX - look out for ESP.
If you're after a bit of pampering, Chichester has a Champneys, Space NK and Molton Brown.
A White Company shop has opened in the summer of 2012 in North Street.
Book lovers will enjoy the well-stocked and spacious Waterstones bookshop in East Street and the musty delights of Kims Bookshop - crammed with second hand books of all types - in South Street.
Chichester Shops
If you like unusual or independent shops, then here are our suggestions for
interesting shops
to look out for if you're shopping in Chichester.
In Crane Street, a small pedestrianised street just off North Street, look out for Saffron of Chichester, a purveyor of Moroccan style clothing, accessories and myriad other items.
Crane Street is also the place to go if you are a fan of vintage clothing. One Legged Jockey is crammed full of items that were once the height of fashion (and which may be en vogue again soon - who knows?).
Markets
There's a market in the Market Avenue Car Park every Wednesday and Saturday morning.
Look out for the Chichester Farmers Market too. These take place every other Friday morning in the main shopping streets of North Sreet and East Street.
Looking through old guidebooks of Chichester it's clear that many of the Chichester shops of fifty years ago don't exist any longer. But gentleman's outfitters
Hansfords
have been trading in Chichester for over 100 years.
Andrew McDowell
in North Street is cut from similar cloth.
Little London Walk (formerly called Sadler's Walk after the ancient seed merchants depot that once adjoined the site) is worth a stroll. It's full of small independent Chichester retailers.
The area at the far eastern end of East Street has a fair amount of noisy traffic, but it's worth wandering out that way to look at the unusual shops in The Hornet like craft shop the Carousel and St Pancras, where there's cluster of good restaurants too.
There are several high class fashion boutiques in Little London, including the Little London Boutique.
Chichester Retail Park
On the eastern outskirts of Chichester near the A27 there is a large and ugly modern retail park. While it doesn't give the best impression of the city for people approaching Chichester from the east, Chichester Retail Park does have some good shops, including
John Lewis
, BHS, Halfords and several sellers of cheap furniture and carpets.
There's also a large Sainsbury's (rebuilt after a massive fire in 1993) and a Lidl at Chichester Retail Park.

PLACES NEAR CHICHESTER
WEST SUSSEX TOWNS
MORE ABOUT CHICHESTER
CHICHESTER HISTORY
CHICHESTER ADS
SUSSEX INFO