A short history of Saxon Sussex
The name Sussex comes from an adaptation of the name South Saxons.
So who were the Saxons?
The British often think of themselves as coming from old Anglo-Saxon stock, or having Anglo-Saxon values, but who were the Anglo-Saxons?
Well, the Saxons came from Lower Saxony in Germany and the Angles probably came from northern Germany and Southern Denmark.
The Saxon invasion
The Saxons took advantage of the power vacuum in Sussex left behind by the
Romans
when they could no longer afford to maintain outlying parts of their empire in the fifth century. When the people of Sussex asked Rome for help in defending themselves from Saxon raiders, the Empire decided it couldn't afford to strike back and left Britain to fight for its own future.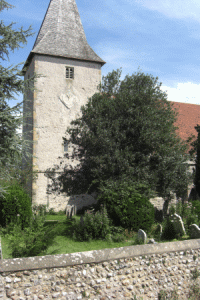 Although no-one really knows, it is highly unlikely that the Saxon takeover was a peaceful one and there is some evidence of periodic fighting between Saxons and Britons right through to the ninth century.
The South Saxons who first came to prominence in West Sussex were led by Aelle.
Very little is known about Aelle, but he must have been a powerful man because according to the Anglo-Saxon Chronicle his influence was felt far beyond his lands in Sussex.
It is generally reckoned that the place where Aelle landed and made his initial base was an island south of Selsey – which was itself a proper island at the time. The place was called Cymen's Shore and, like Saxon Selsey, it too has been swallowed up by the English Channel. The Saxons fought off some of the locals and drove them into the Wealden woods.
One of Aelle's sons was called Cissa and Chichester is named after him (under the Romans Chichester had been called Noviomagus Regensis, under the Saxons it was Cissa's Castre – or Cissa's Camp).
The Saxons worshipped a new set of gods, foremost among whom was Woden, after whom Wednesday is named.
Saxon place names in West Sussex
You can generally get an idea which places in West Sussex date back to Saxon times are from their names.
For instance, there are many places with an Ing in them in Sussex - this is a good indication that the place dates back to settlement by the Saxons:
Examples: Iping, Harting, Didling, Cocking, Woolbeding, Angmering, Worthing, Ferring, Ditchling, Harting, Poynings , Wittering, Steyning, Lancing and so on.
Bury means fortified place:
Examples: Bury, Chanctonbury Ring
Ford obviously means shallow river crossing:
Examples: Kirdford, Dumpford
Ham means village:
Examples: Kingsham, Eartham, Bosham, Birdham
Hurst means wooden hill:
Examples: Fernhurst, Midhurst, Billingshurst
Mer or mar or mere means lake:
Examples: Keymer, Linchmere
Ney means island:
Examples: Thorney, Bolney
Stead or sted means place:
Examples: East Grinstead
Stow or stowe means meeting place:
Examples: Plaistow
Ton or tun means enclosed village or farmstead:
Examples: Kingston, Compton, Funtington, Singleton, Charlton
Wick or wich means a farm:
Examples: Southwick, Aldwick
Lancing, by the way, is named after Cissa's brother Wlensing
HISTORY PAGES
WEST SUSSEX TOWNS
STAY INFORMED
LOCAL HISTORY
HISTORICAL PLACES
SUSSEX INFO