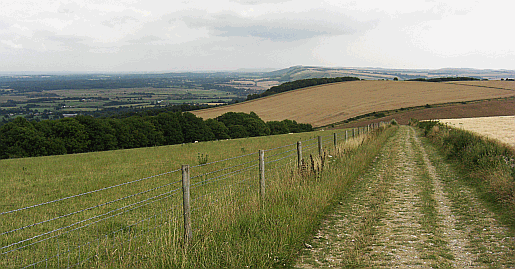 The South Downs Way
Westburton Hill
Just south of the car park at Bignor Hill there's a fairly special place - the remains of
Barkhale Neolithic Camp
. It's not much to look at - just a series of concentric ridges - and it's nothing like as interesting as the
neolithic camp at the Trundle near Chichester
or
Cissbury
for example.
But it doesn't take too much effort to imagine the lives of the people who lived here and their daily struggle for food, warmth and the other essentials of civilised life.
As you leave the car park at Glatting Beacon you head eastwards over some of the barest countryside the South Downs Way has to offer - at least in West Sussex.
It always seems a bit windier up here than elsewhere on the South Downs Way for some reason. Maybe it's just that the bald shaven landscape gathers the wind - or maybe it has a power of suggestion that it's a little bleaker than the previous part of the route. Who knows?
Look out for Toby's Stone close to the very top of Bignor Hill, a horseman's mounting block commemorating huntsman James Wentworth-Fitzwilliam. The monument has senselessly and repeatedly been vandalised by those joyful champions of free speech, liberty and tolerance - anti-hunting protesters.
SOUTH DOWNS WAY - WHERE TO STAY
SOUTH DOWNS WAY - STEP BY STEP
SOUTH DOWNS WAY INFORMATION
SUSSEX INFO