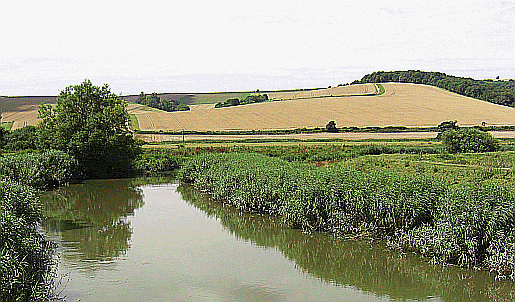 The South Downs Way
The River Arun crossing
The South Downs Way descends from on high right down into the flat flood plain of the River Arun. The drop is one of the biggest on the South Downs Way.
The Arun Valley
is so low here that the river itself is still very tidal, despite being 7 miles inland, and several more along the sinuous river's meandering course.
The South Downs Way follows an enjoyable path through pretty meadows until it reaches the river itself.
The purists' route of the South Downs Way has been changed in recent years at Houghton Bridge.
The route originally crossed the long stone bridge which takes the B2139 Storrington Road across the Arun. The bridge is very narrow and getting along it was often scary and sometimes dicey for walkers.
Nowadays there's a less scenic, but far safer by-pass route for cyclists and walkers just north of the road bridge. Today you cross the river by using an ugly metal bridge with sprung gates at either end.
The village of Houghton is pretty, but slightly spoiled by the narrow road which runs through it. There's no pavement and although the traffic doesn't drive too fast through here (it's a 30 mph zone) it seems faster and more dangerous because of the lack of room for walkers.
If you want to have a look at Houghton, perhaps to enjoy a pint at the George and Dragon pub, it's best to approach the village from the country road to Bury, which is much safer than tip toeing along the busy B2139 road.
SOUTH DOWNS WAY - WHERE TO STAY
SUSSEX INFO
SOUTH DOWNS WAY - STEP BY STEP
SOUTH DOWNS WAY INFORMATION
WEST SUSSEX TOWNS
STAY INFORMED