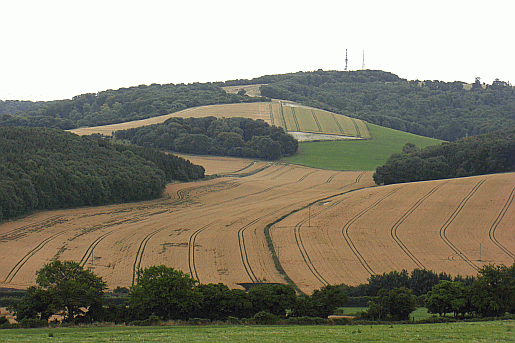 The South Downs Way
towards Glatting Beacon
The South Downs Way makes its way down a steep field towards Littleton Farm, which lies a kilometer north of
Upwaltham's little Church in the Field
.
As you walk towards the farm you get a splendid view of the steady climb up Burton Down and Sutton Down which faces you. The ascent is long but not especially arduous.
At the very top are the distinctive twin masts of Glatting Beacon towards which the Way is heading.
Take care when crossing the A285 road by Littleton Farm by the way. The road is very fast, often muddy and drivers are often anxious to take advantage of one of the best places for overtaking between Chichester and Guildford.
SOUTH DOWNS WAY - WHERE TO STAY
SOUTH DOWNS WAY - STEP BY STEP
SOUTH DOWNS WAY INFORMATION
SUSSEX INFO