The South Downs Way
Manorfarm Down
At Cocking there's a rare chance to take on some water, thanks to a well positioned
tap at Hill Barn
.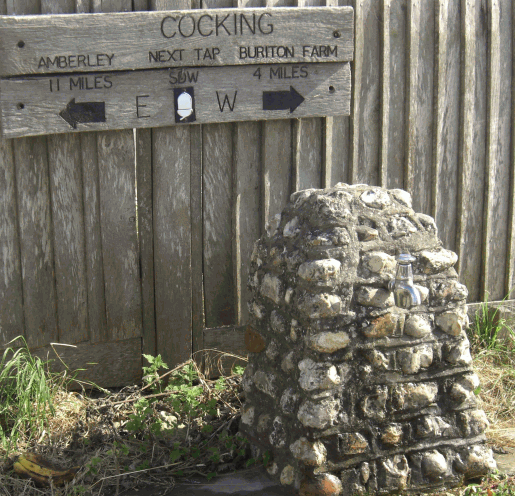 The climb back up to the top of the South Downs Way is a long a tiring one taking you from 107 metres above sea level at the road to 227 metres at Heyshott Down - all in the space of 2 miles.
It's worth pausing for a rest and a look back from where you came from when you get towards the top of Manorfarm Hill. That's because this is the last view that you are going to get from the South Downs Way for a few miles.
In the approaching section of the South Downs Way the land to the north of the track is annoyingly a few feet higher - block off views of the Rother Valley and the attractive villages of Heyshott and Graffham.
To the south the view is blocked by thick woodland.
Herringdean Wood, Highditch Copse, Punters Copse and most of all the mass of Charlton Forest form an impenetrable curtain of trees.
There's an unusual downland sight a mile south of the Way at Singleton Oilfield - but even that is blocked out by the forest.
SOUTH DOWNS WAY - WHERE TO STAY
SOUTH DOWNS WAY - STEP BY STEP
SOUTH DOWNS WAY INFORMATION
WEST SUSSEX TOWNS
STAY INFORMED
SUSSEX INFO