The South Downs Way
Littleton Down and Dogkennel Cottages
A short walk through the woodland above
Stickingspit Bottom
brings you to a pretty gate and a vast expanse of arable land at Littleton Farm. The landcape starts to change here.
A gap between the unfeasibly smoothly shaven Barlavington Down on the left and Farm Hill on the right allows you a wonderful long range view along the scarp slop of the South Downs looking due east deep into East Sussex.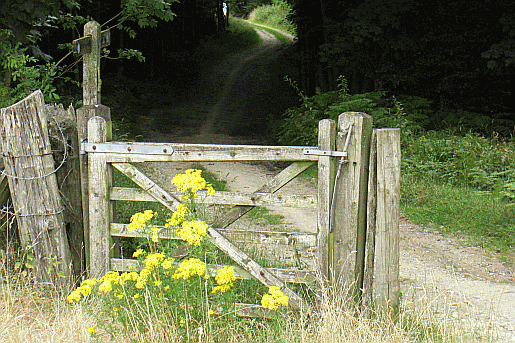 The buildings you see in front of you are called Dogkennel Cottages and are a reminder of the importance of hounds and hunting to Sussex rural life until recent times.
If you've been walking the South Down Way from east to west, now is the time to pause and consider the ground you've covered and the sights you've seen. You won't be seeing them again, at least not on this walk.
Besides, the climb up Littleton Down is seriously steep and you will deserve a good rest after tackling it.
On the Ordnance Survey map you'll notice a feature just north of this spot called Bishop's Ring which is sometimes called the Bishop's Clump.
These trees were planted by Bishop Samuel Wilberforce, successively bishop of Oxford and then Winchester and the son of the famous emancipator of slaves, William Wilberforce. The Wilberforce family owned the Lavington estate for many years.
Lavington Park is now used by Seaford College - a boys public school, which relocated to Lavington in 1946 after being evacuated from Seaford in East Sussex during the second world war.
SOUTH DOWNS WAY - WHERE TO STAY
SOUTH DOWNS WAY - STEP BY STEP
SOUTH DOWNS WAY INFORMATION
WEST SUSSEX TOWNS
STAY INFORMED
SUSSEX INFO