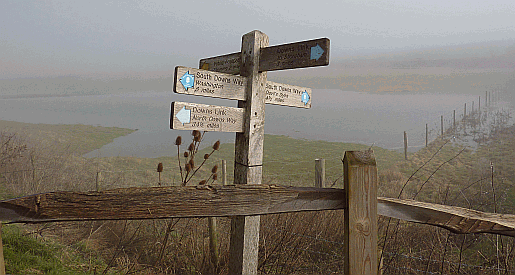 The South Downs Way
The Adur Valley
From the sleepy village of
Botolphs
, your route along the South Downs Way turns south along the River Adur for around 300 metres until you come to the modern river crossing point. The river, which is still deeply tidal here, is as about 30 metres wide at the crossing.
Although you will be lucky to see any boats or craft on the River Adur these days, cast your mind back not quite a thousand years to a time when this was a busy thoroughfare.
You might have seen barges and other boats heavily-laden with produce from the Weald and all the riches that Sussex could afford to import ferried up and down the length of the river to castle town of Bramber and the medieval river port of Beeding.
After heavy rain the fields between the river are the road are sometimes flooded forming a large lake. Thankfully for the walker there is a hard causeway running across allowing smooth even steps and a firm footing underneath.
Just before you cross the road there is a water trough and tap. It all looks rather grubby, with the swirl of litter and piles of dead leaves, but on a hot summer's day, you might not be too fussy about drinking from this tap.
SOUTH DOWNS WAY - WHERE TO STAY
SUSSEX INFO
SOUTH DOWNS WAY - STEP BY STEP
SOUTH DOWNS WAY INFORMATION
WEST SUSSEX TOWNS
STAY INFORMED