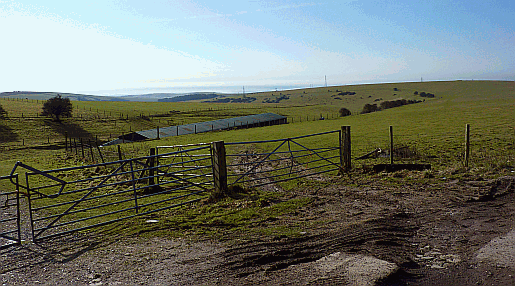 The South Downs Way
On top of Truleigh Hill
As you approach
Tortington Barn
and it's neighbour
Freshcombe Farm
the landscape around the South Downs Way takes on a different personality. This is a managed farming landscape, full of fences, girders, sheds, machinery and the marks of man.
It's a reminder that much of our city-dwellers' romanticised view of Sussex farming is a fiction. Farming even in such deliciously beautiful places such as this is a world of early mornings, cold fingers, mud, corrugated iron, rust and chicken wire.
At Tortington Barn, discreetly hidden from view, there's a modern sixties style youth hostel.
As the plaque at the entrance says "This Youth Hostel, one of many both in this country and abroad, where young people regardless of race or creed many spend the night".
At the very top of Truleigh Hill, as well as the masts, farm building and paddocks there's a final attempt by society to tame this rural environment in the form of a Parish Council noticeboard complete with a poster advertising the local police crimestoppers service.
This seems a little unnecessary.
But then a few metres further on, spray painted graffiti reminds you that even up here there's a need for law and order.
SOUTH DOWNS WAY - WHERE TO STAY
SUSSEX INFO
SOUTH DOWNS WAY - STEP BY STEP
SOUTH DOWNS WAY INFORMATION
WEST SUSSEX TOWNS
STAY INFORMED